Overview
The automotive industry is involved in the design, manufacture, marketing, sale and service of motor vehicles and their parts. Its principal products include passenger automobiles, light trucks (vans, pickups and sport utility vehicles) as well as commercial trucks (delivery and large transport).
Second only to China in size, the U.S. boasts one of the world's largest automotive sectors. Employing over 1.7 million people and paying over 500 billion dollars in compensation, the U.S. automotive industry creates various jobs in multiple automotive sectors. Canada's automotive industry is also among the world's top ten largest, contributing $19 billion to the country's GDP and employing over 500,000 people.
Along with design and manufacture, the automotive industry also encompasses the service, repair and maintenance of motor vehicles. All of these subsets of the automotive sector involve applications that produce toxins with the potential to seriously harm worker health.
Automotive Service and Repair
Mechanics involved with the service and repair of vehicles are exposed to a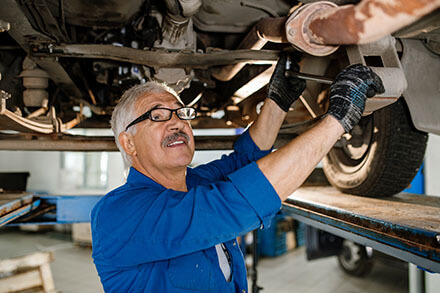 number of hazardous chemicals that can have a long lasting impact on their health. The chemicals and heavy metals found in brake fluids, detergents, lubricants, degreasers, paints, metal cleaners, solvents and fluids can all lead to chronic poisoning over time.
Solvents
Solvents such as benzene, toluene and xylene are highly toxic and have the potential to cause hematological changes in the body. Used for degreasing, metal cleaning, paint thinning, adhesion and lubrication, solvents can present both short-term and long-term consequences for auto service mechanics. Inhaling solvents can result in:
Bronchial irritation
Dizziness
Central nervous system depression
Nausea
Headache
Coma
Death
Skin contact with solvents may cause skin defatting, drying and irritation.
Diesel Exhaust Fumes
Diesel fumes also pose a serious health threat to mechanics in the workplace. Containing small particles that accumulate in the lungs, inhalation of diesel fumes can have both short-term and long-term consequences. The short-term symptoms include:
Headaches
Vomiting
Lightheadedness
Eye, nose and throat irritation
Numbness
Tightness of the chest
Wheezing
While some cases of illness due to diesel fume exposure are less serious (asthma, airway restriction, immunological and allergenic reactions) many are critical. Long-term diesel fume exposure has been linked to lung cancer, mutations in the body and organic brain damage.
Local exhaust ventilation systems help to protect workers from exposure to antiknock agents, solvents, asbestos and diesel fumes. Ambient air ventilation can also reduce airborne contaminants if local extraction is impractical. Diversitech has a number of ambient air cleaners to help filter out the dangerous chemicals found in automotive service shops. For local extraction at source, Diversitech offers a series of downdraft booths as well as the FRED Carbo Portable VOC Fume Extractor.
Automotive Manufacture
Painting and Powder Coating
The industrial spray painting and powder coating applications used in the service and manufacture of motor vehicles, produce volatile organic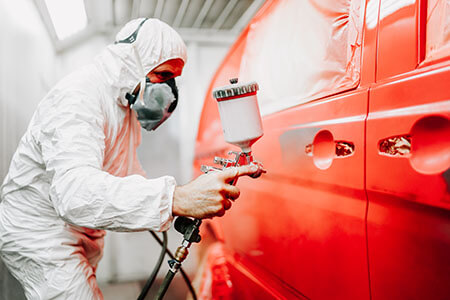 compounds (VOC's) and dusts that are hazardous when inhaled.
Unfiltered paint fumes may contain such metals as chromium, cadmium and lead along with other toxic chemicals like isocyanates, toluene, petroleum naphtha and epoxy resins. All of these chemicals can lead to serious health effects including:
Respiratory inflammation and/or disease
Skin rashes and inflammation
Allergic reactions
Nerve and brain damage
Nausea
Organ failure
Headache
Vomiting
Long-term exposure to VOC's can have even more devastating consequences such as cancer, central nervous system disorders as well as liver and kidney disorders.
Powder coating, an application that covers, heats and fuses together polyester or epoxy powder to create a protective layer, contains VOC's and is also combustible if appropriate precautions are not taken.
Proper ventilation is only part of the equation when dealing with VOC fumes from spray painting and powder coating applications. Capturing the fumes at source is your best bet in protecting worker health and ensuring cleaner indoor air. Collecting and filtering VOC's before recycling the air can also provide companies considerable energy cost savings in shops that are climate controlled.
For the safe collection of paint fumes, Diversitech offers the FRED Overspray Master Portable Fume Extractor, as well as Industrial Paint Booths and Benchtop Spray Booths.
Sanding and Finishing
Automotive body repair and paint refinishing will often use sanding and finishing applications that produce a number of harmful dusts. Some of the common toxic byproduct produced from sanding and finishing includes silica, rust, methylene chloride, chromium and lead. If not properly captured, these microscopic dusts contaminate shop air and enter the breathing area of workers. If inhaled, these dusts pose numerous risks including:
Emphysema
Asthma
Black lung
Silicosis
Tuberculosis
Kidney disease
Lung cancer
Mild respiratory irritation
Nausea and/or vomiting
Headaches and dizziness
Irritated eyes, nose and throat
Chest pain
Respiratory damage
Difficulty breathing
Excess fluid in the lungs
Lead poisoning
Nervous system damage
Capture-at-source is the best method to avoid the buildup of dust in the workplace. Diversitech offers a number downdraft tables, environmental booths and cartridge dust collectors for the safe and effective collection of finishing dusts.
Welding
Workers involved in the manufacture and service of motor vehicles are often required to weld when fabricating and repairing their products. Welding produces smoke, dust and fumes that contaminate indoor air, negatively affecting worker health. Hexavalent chromium (Cr6), a known carcinogen with numerous other health risks, is just one of the more serious toxic byproducts of welding stainless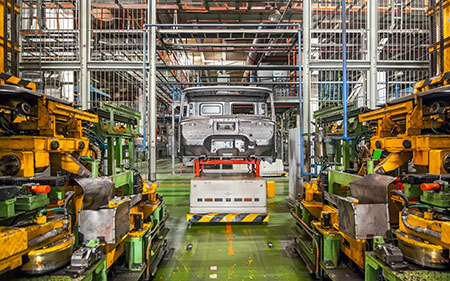 steel.
But it's not Cr6 automotive workers need to be concerned about. Welding smoke may also contain other damaging toxins including: nickel, arsenic, asbestos, manganese, silica, beryllium, cadmium, nitrogen oxides, phosgene, acrolein, fluorine compounds, carbon monoxide, cobalt, copper, lead, ozone, selenium, and zinc. Nickel, like Cr6, is a carcinogen and exposure to levels of cadmium can be fatal.
Other illnesses associated with welding smoke include:
Nausea and/ or vomiting
Headaches and dizziness
Chest pain
Respiratory damage
Lead poisoning
Nervous system damage
Pulmonary edema (fluid in lungs)
Metal fume fever
Pneumonitis (inflammation of the lungs)
Reproductive problems
Emphysema
Silicosis
Siderosis
To control weld smoke, dust and fumes, capture-at-source remains the best option. Diversitech's extractions arms, portable fume extractors and downdraft tables collect toxins before they have a chance to contaminate indoor shop air and remain the trusted choice of North America's largest manufacturers.
Grinding and Deburring
Used in the manufacture of motor vehicles, grinding and deburring can create dusts and particles that pollute indoor shop air. These applications produce airborne metal, composite, rubber or fiberglass dust that can be highly toxic when inhaled. Many of the metallic dusts like aluminum, titanium and magnesium are combustible and need to be handled appropriately to avoid fire and explosion.
The dusts from grinding and deburring have been known to cause a condition called pneumoconiosis, also known as "dusty lung". Over time, pneumoconiosis leads to a buildup of scar tissue in the lining of the lungs, contributing to serious, chronic issues. If not captured at source, particles produced by grinding can dissolve in the bloodstream and affect the liver, kidneys and even the brain.
Other health problems associated with grinding and deburring dusts include:
Black lung
Silicosis
Tuberculosis
Kidney disease
Lung cancer
Mild respiratory irritation
Nausea and/or vomiting
Headaches and dizziness
Irritated eyes, nose and throat
Chest pain
Respiratory damage
Difficulty breathing
Excess fluid in the lungs
Lead poisoning
Nervous system damage
To safely control grinding and deburring dusts, you want an effective capture-at-source or ambient ventilation solution. Diversitech provides a number of different downdraft tables and cartridge dust collectors for the safe removal of dusts due to grinding and deburring. Wet downdraft tables are recommended for the capture of combustible dusts.
CNC Wet Machining
The automotive industry also uses CNC machines in the manufacturing of motor vehicles. Generating airborne mist and smoke from coolant, the oil mist produced by CNC machines pose a serious breathing hazard for workers. These mists also can potentially damage other machines and electronics in the shop.
Exposure of CNC oil mist has been linked to an increased susceptibility of several types of cancer. Other health problems associated with these machines include:
Contact Dermatitis/ Photosensitive allergic dermatitis
Bronchial asthma
Lipoid pneumonia
Rhinitis
Bronchitis
Lung fibrosis
Lung cancer
Benign and malignant tumors of the scrotum
Accumulation of oil mist on shop floors can also create slick conditions where workers can possibly fall and get hurt.
For the safe capture of oil mists, Diversitech provides oil mist collectors you can connect directly via ductwork to CNC machines.