Abrasive Blasting in the Workplace
Abrasive blasting is a process used by many manufacturers to finish a material surface or to remove,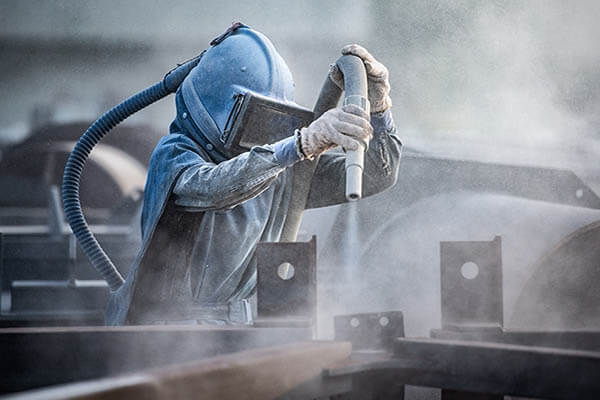 prepare or clean contamination from a part by propelling abrasive media at high speed into the workpiece. There are many different types of blasting processes depending on the level of abrasion required. It is vital to protect worker's health and safety while blasting as this application typically generates large amounts of abrasive and workpiece material dust which can be hazardous to inhale and explosive.
Blasting Applications & Equipment
There are many types of blasting methods used by industry, each with their own characteristics:
Wheel blasting
Sandblasting
Wet Abrasive blasting
Bead blasting
These are some of the blasting systems that can be used:
Blast Cabinet
Blast Room
Robotic or Automated blasting systems
Portable blast systems
Health Dangers of Abrasive Blasting
The high concentration levels of airborne dust and the dust type impact the risk of exposure to airborne blasting dust. The abrasive itself can also be toxic, as abrasives such as silica, coal slag and nickel media are used. The smaller the size of the airborne particles, the more likely they are to travel deep into the operator's respiratory tract where they can cause severe damage. The part being blasted can also contain hazardous elements including lead paint and combustible metals which need to be taken into account. Depending on the type of blasting and the substrate, the following health risks may be encountered with your application:
Silicosis
Irritated eyes, nose and throat
Chest pain
Bronchitis
Lung cancer
Respiratory damage
Lead poisoning
Neurological or cognitive damage
Abrasive Blasting Dust Regulations
One recent area of OSHA focus over the past few years has been the PEL (Permissible Exposure Limit) for silica dust. Because of the toxicity associated with inhaling silica dust, OSHA has cut the PEL to 50 m/m3 in 2016. These regulations were put in place to protect workers from the harmful effects of silicosis which include lung damage, heart disease and shortness of breath. The NFPA has also released standards on combustible dust on metals and other flammable materials to ensure that combustible dust is safely captured and collected with systems including necessary safety features to protect operators from the risk of fire or explosion.
Effective Blasting Dust Control Solutions
Diversitech has a full range of dust collectors to control airborne abrasive blasting dust. Our Filterhawk cartridge dust collectors and be outfitted with accessories like abrasive inlets to limit the wear and tear of handling abrasive dust and reduce premature wear on the collector. Systems can be supplied with high-efficiency HEPA after filters to eliminate fine toxic airborne particulate in silica applications and we can outfit dust collection systems with accessories for the safe handling of combustible dust including fire detection and suppression systems, explosion vents, isolation and abort valves and sprinklers.
Contact us today for more about how we can help.
---
Popular Products for Abrasive Blasting